Prof. Dr. Edmond Hajrizi - President of the Board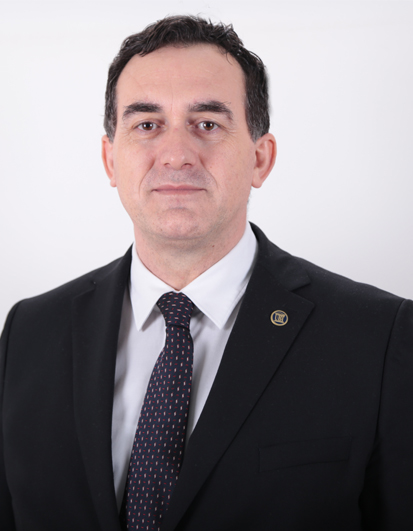 Prof. Dr. Edmond Hajrizi possesses more than twenty years of experience in managing the higher education institutions, teaching, research, and management of international research and capacity development projects. Prof. Dr. Edmond Hajrizi is the founder and Rector of College UBT and as of 01.10.2019 serves as a President of Management Board of College ESLG, as an independent higher education institution being part of UBT Group.
The experience of Professor Hajrizi is mostly focused on entrepreneurship in higher education, management, teaching, research, development, training, consulting, and certification and publishing. Professor Hajrizi holds PhD degree from Vienna University of Technology and Post Doc. From City University London.

Specialisation Field of Professor Harjrizi are: Complex Systems Design and Management, Intelligent Systems, Sustainable Development, Quality Management, Project Management, Leadership and Business Management, Knowledge Management, Information Systems, Mechatronics Management, Entrepreneurship and Innovation.

Selected highlights of professor Hajrizi are presented as follows:

• Founder, President and CEO of: University for Business and Technology, Institute of Enterprise Management and Engineering, Kosova Association for Quality Management, Standards, Certification and Confirmation (Quality Kosova), Kosova Association for Control, Automation and Systems Engineering, Kosova Association for Management, Kosova Association for Accounting, Auditing and Finance, Kosova Innovation Park, Kosova Robot Soccer Team (2011 the First Place in Europe).

• University Teaching: Vienna University of Technology, Danube University Krems, University for Business and Technology, University of Prishtina, Warsaw University, University of Tirana

• Research Activities: Head of Research and Development Institute, Research Staff Member at Institute of Intelligent Systems, Research Staff Member Institute of Model building and Simulation, City University London Research Follower.

• Development Activities: Business Models Development, Product Development and Projects Management for: Business, Education, IT, Production and Governance. IEME, SIEMENS Austria, AUSTROTECH, etc.

• Training Activities: Project Management, Quality Management, Strategic Management, Systems Management, Entrepreneurship and Innovation, Robotics and Advanced Technologies, IT Strategy, Soft Skills.

• Consulting Activities: for Businesses (Management and Technology), Government (Education, Industry and Economic Development), World Bank Consulter for Research and Innovation, BAS Consulter for Quality Management.

• Board Member: Kosova Agency for Statistics, Group Member for Integration of Kosova Higher Education in Bologna Member Countries List, Board Member of Post Telecom Kosova, Member of Government Working Groups for :SME Development, European Integration, Standardisation and Quality Management.

• Certification Activities: First Assessor of International Association for Project Management, International Examiner for Quality Management and Auditing according European Organisation for Quality

• Publishing: Editor of International Journal for Business and Technology, UBT Publishing, UBT News, Proceedings of International Conferences, Book Author, Author of publications in different journals and proceedings.

• Membership: Chair and Team Member of Peer Review, Technical Committees, International Scientific Committees, Organising Committees for different: International Professional and Scientific Organisation, Journals, Conferences and Symposiums.

• Awards: Personality of the Year in Kosova, Excellence Award in Teaching - International Engineering Management, Best Student Award, Leadership Excellence Award for Education, Science and Technology, Ambassador for Peace.

Back